Anviz VF30 Pro Fingerprint With RFID Access Control & Time Attendance
৳ 17,500.00
Brand: Anviz
Model: VF30 Pro
Fingerprint Capacity: 3,000
Card Capacity: 3,000
Log Capacity: 100,000
Identification Mode: Finger, Password, Card
Identification Speed: <0.5s
CPU: 1GHz Quick CPU
Sensor Touch Active Sensor
Comm: TCP/IP, RS485, POE (Standard IEEE802.3af), WiFi
IP Grade IP55
Origin: USA
Warranty: One Year
Anviz VF30 Pro Fingerprint With RFID Access Control & Time Attendance
VF30 pro is the new generation of standalone access control readers. This device has a 1Ghz processor, 2.4″ TFT LCD screen and flexible POE (power over Ethernet) or WI-Fi communication capabilities. There's also an EM card reader on this VF30 pro which will make it easy to manage your systems more effectively and offers professional interfaces for authorization purposes with its webserver function as well!
VF30 Pro is an excellent option for organizations with a large number of employees. It can easily manage the largest number of users, cards and logs thanks to its massive memory capacity. A single unit has enough space to accommodate up to 3,000 different people as well as their ID's or security passes that are needed in order enter into certain areas on company premises.
Specification
Model: VF30 Pro
Capacity
Fingerprint Capacity: 3,000
Card Capacity: 3,000
Log Capacity: 100,000
Interface
Comm: TCP/IP, RS485, POE (Standard IEEE802.3af), WiFi
Relay Relay: Output (COM, NO, NC )
I/O: Door Sensor, Exit Button, Door Bell,Wiegand in/out, Anti-pass Back
Feature
Identification Mode: Finger, Password, Card
Identification Speed: <0.5s
Card Reading Distance 1~5cm ( 125KHz), 13.56MHz <2CM )
for Standard CR80 Card
Image Display Support
Time Attendance Mode 8
Group, Time Zone 16 Droup, 32 Time Zone
Work Code 6 Digit
Short Message 50
WebServer Support
Daylight Saving Support
Voice Prompt Support
Clock Bell 30 Groups
Software Anviz CrossChex
Hardware
CPU 1GHz Quick CPU
Sensor Touch Active Sensor
Scanning Area 22*18mm
RFID Card Standard EM, Optional Mifare
Display 2.4″ TFT LCD
Dimensions(W * H * D) 80 * 180 * 40mm
Working Temperature -30℃~ 60℃
Humidity 20% to 90%
PoE Standard IEEE802.3af
Power DC12V 1A
IP Grade IP55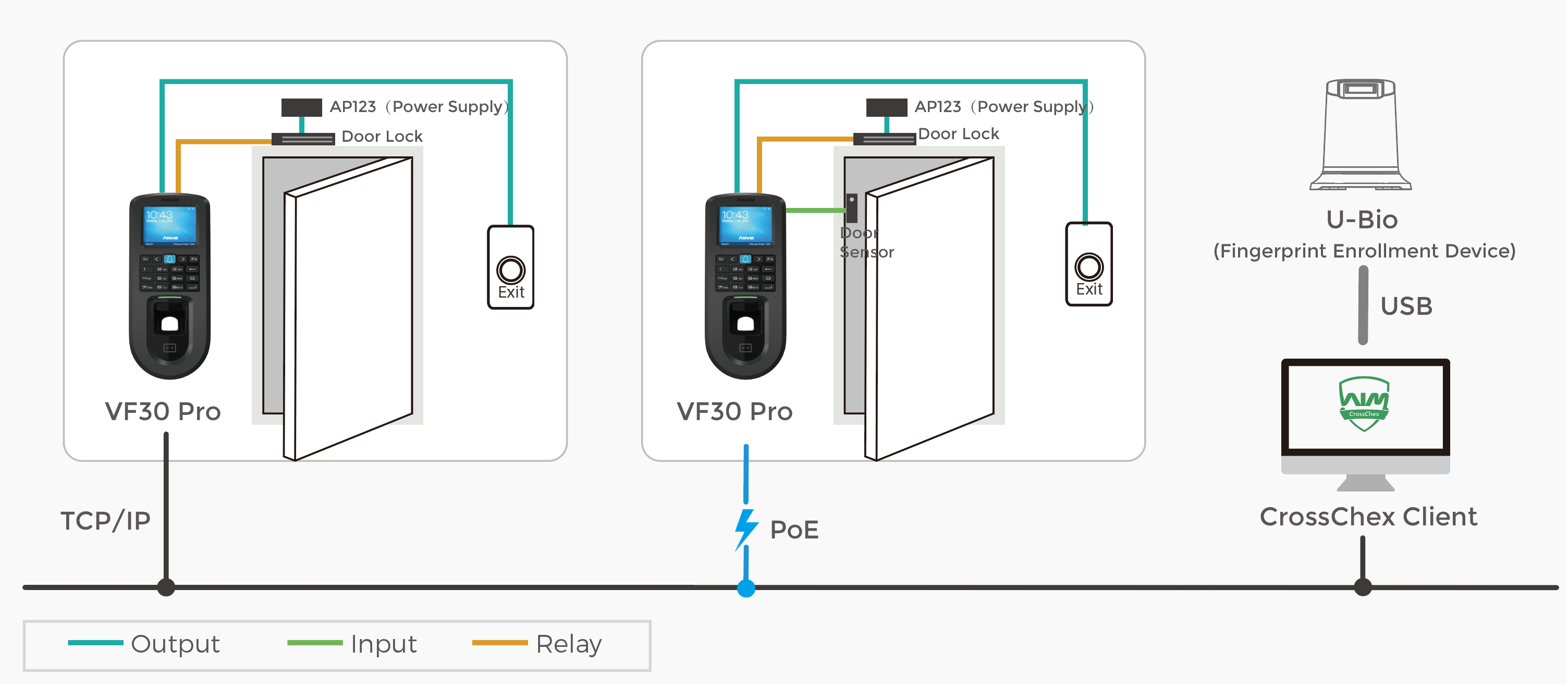 Anviz VF30 Pro Price in Bangladesh
The Anviz VF30 Pro price for Bangladesh is 17,500 taka.
| | |
| --- | --- |
| Price: | ৳ 17,500 |
| Brand: | Anviz |
| Model: | Anviz VF30 Pro |
| Item: | Fingerprint Attendance |
| Contact No: | 01785-777722 |
| Status: | In Stock |
| Warranty: | One Year |