Netgear GS808E 8 Port Gigabit Gaming and 4K UHD Streaming Switch
৳ 7,500.00
Advanced 8-port Gigabit
Nighthawk S8000 Gaming & Streaming Switch
The NETGEAR Nighthawk S8000 Advanced 8-Port Gigabit Ethernet Switch is a versatile, ultra-performance, easily configurable network switch designed for expert gaming, 4K UHD media streaming, and home network connectivity. It brings low latency, port prioritization, and Quality of Service (QoS) management for the best experience with demanding applications. The sleek and modern design makes it the perfect fit for any modern home or small office. The Nighthawk S8000 switch comes with an intuitive mobile-optimized web browser-based user interface for advanced configuration, with user-friendly pre-configured one-click optimized settings.
Netgear GS808E Price in Bangladesh, Nighthawk S8000 Advanced 8 Port Gigabit Gaming and 4K UHD Streaming Switch
Optimized for Video and Streaming
Low latency connections for the ultimate multi-user/online VR gaming experience and 4K HD video streaming.
One-click optimized configuration presets for the best gaming, streaming, or general networking.
Three levels of network traffic prioritization and QoS management for ultra-high performance ensure that the connections you chose get the highest priority.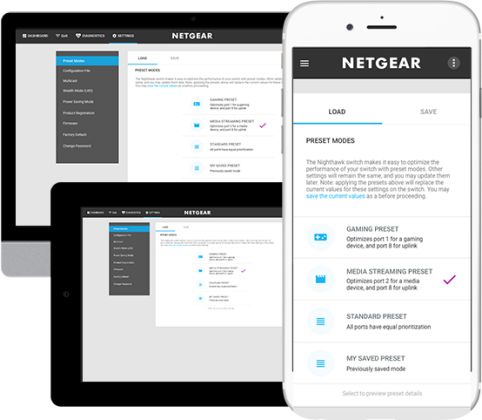 "One-Click" Setup
"One-click" fast set up and configuration with pre-configured and optimized settings. Choose between low latency gaming, high priority media streaming, standard LAN networking or your own customizable user-defined mode.
Intuitive web browser-based graphical user interface (GUI), simple enough for everyone, but with rich features and advanced functions for techies, all accessible from your computer or mobile device.
Cool Design and Configurable LEDs
Industry-first "cool-touch" premium zinc-alloy housing for durability and looks, with soft-touch no-slip base.
Configurable and multi-angle viewable LEDs allows you to see your port status and activity even when you are not looking at the ports. You can also turn off all LEDs (power and Ethernet ports) for distraction-free operation.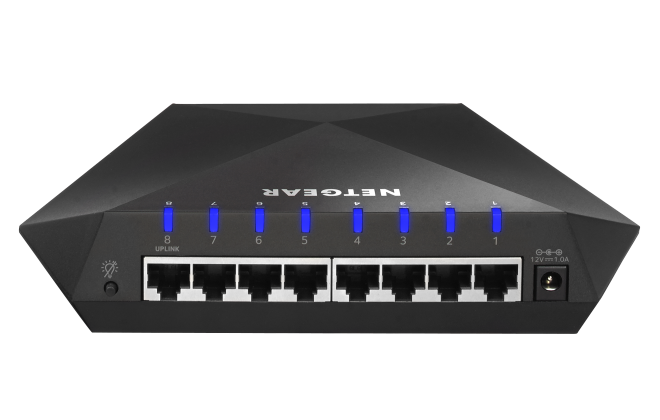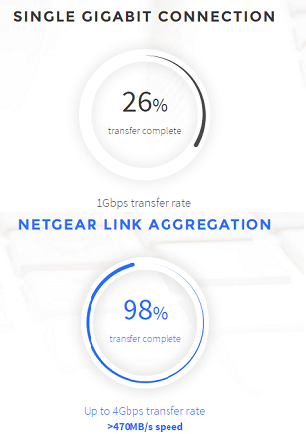 Up to 4x Faster Than a Single Gigabit Connection
Port trunking/Link Aggregation (LAG) allows for increased throughput beyond 1G or to provide redundancy across the link(s).
In addition, LAGs allow for using multiple ports to create an aggregated connection of up to 4Gbps concurrent throughput to any other link aggregation capable devices, such as NETGEAR ReadyNAS storage or Nighthawk routers*.
In the home or in the office, with link aggregation you will get the fastest file transfers, backups, or gaming, while also providing a redundant connection for fail-over.
*Only available with Nighthawk routers that support static LAG.
Advanced Networking Features
The Nighthawk S8000 switch can go beyond plug-and-play connectivity with advanced L2 switch networking features, allowing businesses to prioritize voice and video traffic with QoS.
IGMP snooping allows for optimized multimedia delivery and port trunking adds redundancy to uplinks and servers.
Setup and configuration is simple using the mobile optimized web browser-based configuration GUI.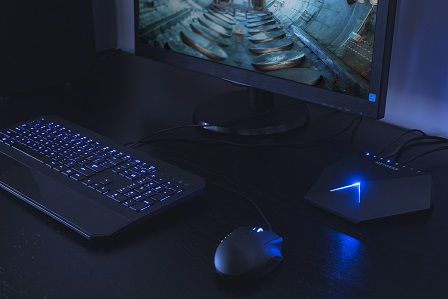 Multi-user Gaming
With pre-configured and optimized QoS settings that prioritize your gaming activity on the network, you'll have the advantage when taking on your gaming foes.
With rapid installation and configuration, organizing LAN parties for all-night gaming with friends is a just one-click away.
Family Movie Night
The Nighthawk S8000 provides seamless, simultaneous HD streaming to multiple devices. Pre-configured and optimized QoS helps to reduce buffering and jittery video.
Just relax and enjoy your favorite movie!
Give Your Wireless Network a Break
The Nighthawk S8000 switch connects up to 7 (one port for uplink) high-bandwidth demanding wired devices, allowing you to offload this bandwidth intense traffic from your wireless network for a better user experience in the home.
The Nighthawk S8000 switch comes with an easy-to-use setup and configuration user interface, with pre-configured one-touch settings for gaming, media streaming, standard networking and two additional custom user-defined configurations.
The Nighthawk S8000 switch integrates seamlessly with NETGEAR Nighthawk routers to bring the ultimate optimized networking to the home with the coolest looking switch on the market!
Model Description
NETGEAR® Nighthawk® S8000 8-Port Gaming & Streaming Switch
Port and power LED on/off
Yes, controlled separately
Packet buffer memory (dynamically shared across ports in use)
Latency on non-congested network
Nighthawk Switch : 2.7μs
Standard Gigabit Switch : 3.7μs
Latency on congested network
Nighthawk Switch : 4.7μs
Standard Gigabit Switch : 451 μs
MAC address database size (48-bit MAC addresses)
Packet forwarding rate (64 byte packet size) (Mfps or Mpps)
One-click optimized setup
Default preset modes
Gaming (Optimizes Port 1 for a gaming device and Port 8 for Uplink)
Media Streaming (Optimizes Port 2 for a media streaming device and Port 8 for Uplink)
Standard Preset (All ports have equal priorization)
Customizable preset modes
Pre-defined port priority queues
IGMP snooping (v1, v2, and v3)
Static manual LAGs (port trunking)
# of Static LAGs / # of members in each LAG
2 LAGs with max 4 members in each LAG
Dimensions (W x D x H)
195 x 149 x 40 mm (7.7 x 5.9 x 1.6 in)
Power supply
External PSU, 12VDC, 1A max
Power supply localized to country of sale
Operating temperature
0° to 40°C (32° to 104°F)



Netgear GS308 8-Port Gigabit unmanaged Switch