Hikvision DS-2CD1327G0-L 2MP ColorVu PoE IP Camera
Call for Price
High quality imaging with 2 MP resolution
Excellent low-light performance
Efficient H.265+ compression technology
Water and dust resistant (IP67)
24/7 colorful imaging
Hikvision DS-2CD1327G0-L 2MP ColorVu PoE IP Camera in Bangladesh
The Hikvision DS-2CD1327G0-L is a powerful and versatile IP camera that offers high-quality surveillance footage. With its 2MP resolution and ColorVu technology, it provides clear and vibrant images even in low-light conditions. The Power over Ethernet (PoE) feature simplifies installation and reduces the need for extra cables and power sources. Additionally, its durable construction and weatherproof design make it suitable for both indoor and outdoor use. Whether you need it for residential or commercial purposes, the Hikvision DS-2CD1327G0-L is a reliable choice for all your surveillance needs.
Trimatrik Multimedia authorized distributor of Hikvision DS-2CD1327G0-L 2MP ColorVu PoE IP Camera in Bangladesh. You can buy the Hikvision Security Camera at the best dealer price from Our Head Office (Dhaka, Uttara), Office. We have dedicated Technical engineers to assist all over Bangladesh. Total set-up and after-sale support can be ensured at the best price. To know more details please Visit our Website Contact Us at our Facebook Page or 0185-3330338, 0185-3330344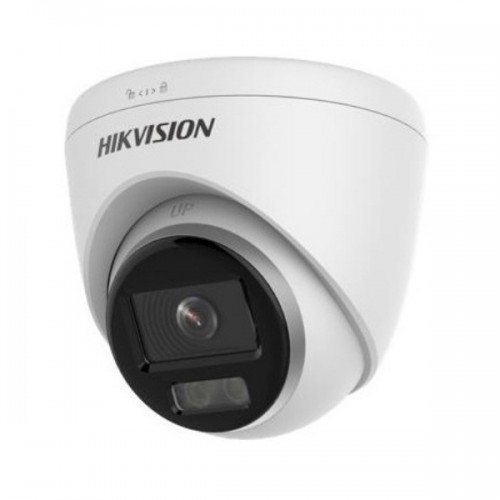 Hikvision DS-2CD1327G0-L Feature:
2 Megapixel Resolution: The camera is capable of capturing images with a resolution of 2 megapixels, providing clear and detailed footage.
ColorVu Technology: One of the standout features of this camera is its ColorVu technology. This technology allows the camera to capture color images even in extremely low-light conditions, which is a significant advantage for surveillance purposes.
PoE (Power over Ethernet): The camera supports Power over Ethernet, which means it can receive both power and data over a single Ethernet cable, simplifying installation and reducing the need for additional power cables.
IP Camera: The camera is an IP (Internet Protocol) camera, which means it can connect to a network and transmit video data over the Internet or a local network. This enables remote viewing and management.
Weatherproof Design: The camera is designed to be weatherproof, making it suitable for outdoor use and able to withstand various weather conditions.
Wide Dynamic Range (WDR): WDR technology helps balance the contrast of light and dark areas within an image, ensuring that details are visible even in challenging lighting situations.
IR (Infrared) Illumination: The camera likely features infrared LEDs that provide illumination for capturing clear images in complete darkness.
Mobile App and Remote Access: Hikvision cameras often come with a mobile app that allows users to view the camera's live feed remotely, which can be very useful for monitoring your property from anywhere.
Motion Detection and Alerts: The camera might support motion detection, triggering alerts or notifications when motion is detected within its field of view.
Hikvision DS-2CD1327G0-L Specification:
Camera Feature
Image Sensor
1/2.8″ Progressive Scan CMOS
Effective Pixels
4MP
IR Distance
Up to 30 m
Lens
Type
4mm
Aperture
F1.0
Angle of View
horizontal FOV 84°, vertical FOV 45°, diagonal FOV 99°
Physical Specification
Dimension
Ø110 × 100.8 mm
Weight
350 g
Power
12 VDC ± 25%, PoE: 802.3af, Type 1 Class 3, reverse polarity protection
Interface
1 RJ45 10M/100M self-adaptive Ethernet port
Ø5.5 mm coaxial power plug
Hikvision DS-2CD1327G0-L
 Price in Bangladesh 2023
| | |
| --- | --- |
| Price: | Call for Price |
| Brand: | Hikvision  |
| Model: | DS-2CD1327G0-L |
| Item: | CCTV Camera |
| Contact No: | +88 0185-3330344 |
| Hotline: | +88 0185-3330338 |
| Warranty: | One Year |
What is the price of the Hikvision DS-2CD1327G0-L Price In Bangladesh?
The latest price of Hikvision DS-2CD1327G0-L 2MP ColorVu PoE IP Camera in Bangladesh is Call for Price. You can buy the Hikvision DS-2CD1327G0-L 2MP ColorVu PoE IP Camera at the best price from our website or visit any of our offices.